I sometimes wonder if there may be something wrong with my decision-making skills; it always seems to be the wrong time of year for my current photo concept, and instead of waiting I decide to make it work.
I have been playing with the idea of shooting a bride on a white horse in a studio setting…I wanted to control the lighting and use a black backdrop to really make the subjects pop.  This all seemed doable until I started thinking about the potential costs of an irritated horse going bananas in our studio.  I also recalled one of my favorite scenes from the movie Animal House:  the Delta House frat boys have Kent Dorfman think he is going to shoot a white horse in the Dean's office…the gun (filled with blanks) goes off…and the horse has a heart attack and dies.  Great movie but a bad scenario for our studio.
This got us searching for locations where we could bring our studio to the horse.  We had success in northeast Illinois, and found an unheated barn with lots of space that would work perfectly.  On the day of the shoot we showed up looking like we were ready to either hit the slopes or climb a mountain…except for our model, Summer, who was wearing a wedding gown and prepared to go barefoot for the shot (remember it is 15 degrees with a stiff nor'easter).  The shoot went smoothly outside of Summer being jolted from the horse and suffering minor scrapes and bruises…we offered to cancel the shoot on the spot, but Summer is incredible and decided to literally get back on.  Cheers to her!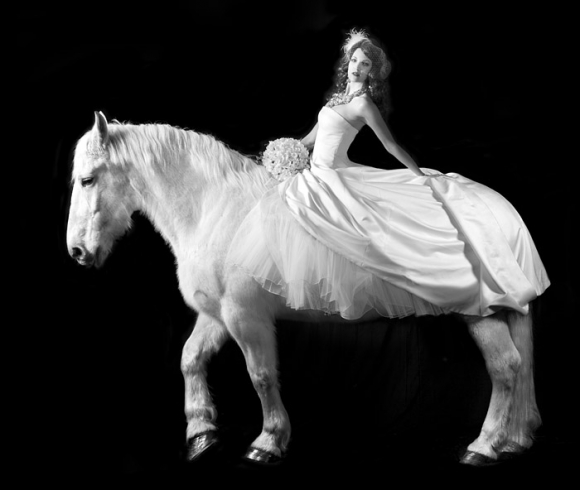 Below is a time-lapse video of our entire photo shoot.  It condenses over 3 hours of prep and shooting into 60 seconds.  This was shot with a Canon 1DS Mark III and a PocketWizard MultiMAX running the camera.  We have over 3000 images in this time lapse…that's 50 images per second.
We shot the video below using the Canon 5D Mark II with a 16-35 lens on a Steadicam to keep things looking smooth – this is a great way to avoid your audience suffering from motion sickness due to choppy camera handling.
It is always a pleasure to work with like-minded people on a project.  It was long cold day but everyone did a great job and hopefully had fun doing it!
Special thanks to:
Summer Bagley:
Model and equestrian in training

Betsy:
Horse
Anna Brahmstedt-Akerlund:
Stylist, digital whiz, and my partner in crime and life
Megan Wadleigh:
Make-up artist
Jeff Anderson, Paul Johansen (from Canon) and his son Kyle, & Dustin Waller:
Steadicam operators, time-lapse gurus, background riggers, and all-around solid citizens
Jason and Amy Sierpien:
Betsy's managers