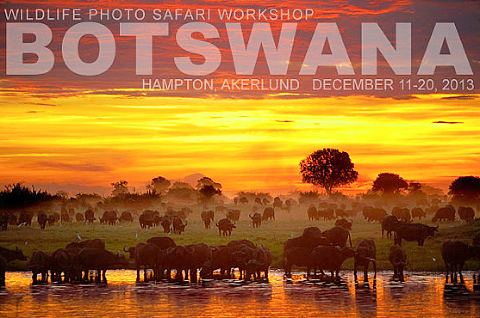 December 11 – 20, 2013
10 days, 9 nights
Limited to 12 participants
Join us along with Brian and Donna Hampton on a private photo safari to Botswana and experience some of Africa's best wildlife viewing and endless photographic opportunities.  We will stay at three of Botswana's top camps, which Brian and Donna Hampton have visited on numerous occasions, each with beautiful accommodations and their own unique habitats to maximize diversity of flora and fauna.  We will have exclusive use of all three of these camps for our workshop safari, a rare and wonderful chance to learn and explore with the full attention of the guides and staff for our small group!  While most safaris will have eight or ten people per safari vehicle, as an added luxury we have arranged for only four people per vehicle on this safari.  This means that each participant will get their own personal seat in our safari vehicles during game drives, with viewing out each side to maximize your opportunities to view and capture wildlife unobstructed on every excursion.  Brian and Donna have also personally requested the best vehicles and the best guides from their years of travel to this area, creating a custom African Wildlife Safari that is a once-in-a-lifetime experience.
While a great safari for photographers of all skill levels, this trip is not exclusively for photographers.  There will be ample time outside of the game drives for guided walks with our knowledgeable guides, mokoro (dugout canoe) excursions, and R&R time at our luxurious camps surrounded by the breath-taking African landscape.
For participants interested in creating a collection of amazing images of African wildlife and landscape to bring home, we will be available for advice and questions throughout the safari if you so choose.  We love travel and photography, and believe that much is gained when people who share a passion come together to explore and learn.  We take great pride in our attention to detail, and our genuine interest in helping our participants absorb as much as they can while traveling with us.  We will offer technical photography and workflow guidance during our safari, as well as offer group critiques on occasion to accelerate your progress if you'd like.  Our mission is to help each participant grow as a photographer regardless of skill level, and have a wonderful travel experience.
For photos and more detailed information on this safari, download the PDF by clicking HERE.
Price per person $9,975 (double occupancy)
What's included?
• All accommodations (double occupancy) while on safari December 11-20
• Round-trip airfare on Air Botswana between Johannesburg, South Africa and Maun, Botswana
• Private round-trip air charters from Maun, Botswana to and from safari camps
• Four private safari vehicles (open 4×4's) at all camps
• All safari activities
• Services of the lodge guides and staff
• Relevant park fees
• All meals and drinks (non-alcoholic and alcoholic) while in Botswana (excluding premium brands)
• Daily laundry while in the safari camps
• Current Tourism Levies and all relevant Value Added Tax or Government Sales Taxes
What's not included?
• International airfare and/or other transportation between your home and Johannesburg, South Africa
• Travel Insurance
• Personal purchases (including curios, spirit liquors, telephone calls, etc.)
• Gratuities for camp staff (very small amounts, optional)
• Optional extra activities (helicopter flights, etc.)
• Tours or activities before or after the safari
• Meals or accommodations before or after the safari
Registration
Email info@nelsakerlund.com or call for more information.  A $3500 deposit is required to secure registration, and can be paid via personal check (mailed to the address below) or by credit card.
In addition, we require a signed and returned safari policy downloadable HERE.  Please review, sign, and return to us at the above address or fax it to us at 888.771.7179.
An award-winning nature photographer, Brian travels across the globe in search of rare and unique wildlife, birds and landscapes.  His images have been featured in several publications and galleries including the Smithsonian Museum.  Brian Hampton started his roots in nature photography as a boy spending summers at his grandfather's farm near the Mississippi river.   As a young man he became interested in photography, took thousands of pictures of his children, and had a modest darkroom set up in the basement.  He put his interest in photography on hold as he started a number of businesses and held many patents over four decades, where his position as CEO kept him focused.  Brian renewed his interest in photography when high quality digital photography equipment emerged, and it was then that he began to explore the wonders of the Florida Everglades.  Since then, Brian and his wife Donna developed a passion for conservation and love of observing wildlife in their natural environment.  This passion drives them to explore many remote and unique regions of our planet, and allows Brian to capture images rarely seen by most people.  Through his photography, Brian hopes to encourage others to protect the dwindling populations of many species around the world and preserve them for future generations.
Nels Akerlund's passion for photography began at age 12 after his father gave him a camera won in a poker game.  In high school, he spent time as an intern for a Washington, D.C. photographer working at the White House during the Reagan administration.  Nels then graduated from the Rochester Institute of Technology, one of the nation's top photography schools.  Since that time, he has photographed assignments in all fifty states and twenty countries across the globe for clients such as National Geographic Adventure, The New York Times, and the LA Times.  His photography has been described as "gorgeous and thoughtful" by the San Francisco Chronicle, and published in nine books and in publications worldwide.  His portraiture includes world leaders, rock legends, politicians, and icons of our times.  Now at age 42, Nels has been shooting for over two decades.